Ever since the "Great Purge" of 2004, when Glen Sather dealt Brian Leetch to the Toronto Maple Leafs, the New York Rangers have lacked an offensive presence on the blueline.
Now, Sather may have finally solved that problem. Or he might have created an even bigger one.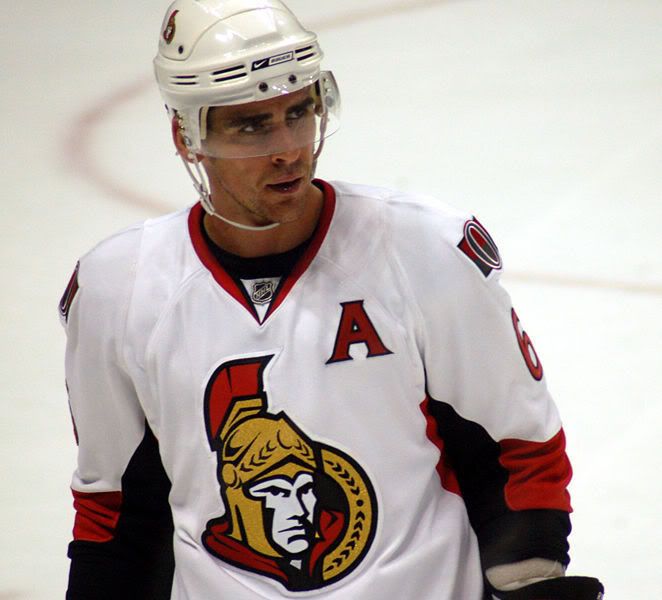 Yesterday, the Rangers signed former Ottawa Senators defenseman Wade Redden to a six year contract that will pay the 31-year-old an average of $6.5 million per season. That's a lot of money to pay a guy who, by all accounts, has been on the decline for two seasons. Especially when you consider that, just hours earlier, the team re-signed their own defenseman, Michal Rozsival, to a four-year, $20 million dollar contract.
Twice an All-Star (in 2002 and 2004), Redden's stock in Ottawa dropped dramatically over the last two seasons. Some point to the death of Redden's mother, Pat, as the beginning of his decline. Pat passed away after struggling with brain cancer in April of 2006. Others point to the seemingly wrong decision made by the Senators' brass in choosing to re-sign Redden while allowing Zdeno Chara to walk away and sign in Boston before the 2006-07 season as the event that led to Redden's downfall.
Over the last two seasons, the Senators, in very public fashion, tried to deal Wade Redden a number of times, but Redden refused to wave his no-trade clause, claiming that his desire was to win a Stanley Cup in Ottawa. Those instances probably didn't do much for his on-ice performance, either.
Now, some will say that all Redden needs is a change of scenery, and that may very well be true. In fact, I actually feel the same way. It's also been mentioned that Redden has a good relationship with assistant coach Perry Pearn, once an assistant with the Senators. Who knows? Maybe he can find his game. I sure hope he does. I've seen Redden play a lot of times, and he used to be a pretty good defenseman. He was solid in his own end and adept at moving the puck up the ice. He's certainly a better option on the power play than Rozsival, too.
But, and this is a pretty big but, what if the change of scenery doesn't do it? If Redden can't return to form, what then? If this guy continues to play the way he has the last two seasons, then this will turn out to be a humongous blunder. Most of the times I saw this guy play the last year or two, he was skating like a zombie, avoiding physical play and just showing a total lack of emotion and desire.
This guy is going to be earning $6.5 million a year until he's 37. He's under contract through the 2013-14 season. That's a long time to pay a guy when you're not sure he'll ever be the player he once was.
But if you're going to go out on a limb and take that risk, why would you also overpay Rozsival? It doesn't make sense.
Rozsival is a decent player, and at the age of 28, he's just entering his prime, but he's a second pairing defenseman. He's not worth $5 million a year. No way. He's not a good option to run the power play, he's not particularly great defensively and he's prone to making horrendous gaffes with the puck. We've all seen Rozy cough up the biscuit at the most inopportune time on more than one occassion. Rozsival's blunders will be giving Henrik Lundqvist nightmares for four more years.
Do you really need both of these guys, especially when you're already paying Fedor Tyutin almost $3 million a season, too? Not in my eyes.
Plus, you've already got Chris Drury, Scott Gomez and Lundqvist earning about $7 million a year. Each. So, for the next four years, when Rozsival's contract expires, this team will be paying about $33 million dollars to five players. In case you haven't heard, this year's salary cap is set at $56.7 million.
Meanwhile, with Sean Avery signing in Dallas (more on this later), and the questions surrounding Mats Sundin and Jaromir Jagr, what the Rangers will do with their forwards remains unclear. So far, they've signed Patrick Rissmiller and Aaron Voros, a couple of third or fourth liners from the San Jose Sharks and Minnesota Wild, respectively. Neither figures to light the lamp very much, though they may prove to be affordable replacements for Avery.
This all leads me to believe that the Rangers are planning to make a trade. This is merely speculation on my part, but I just don't see them standing pat, whether they sign Sundin or bring back Jagr or whatever they decide to do with that whole thing.
I can see the Blueshirts packaging a guy like Tyutin and his salary, along with a Nigel Dawes or a Petr Prucha and perhaps a prospect or draft pick for an upgrade on forward. I thought they might pursue Michael Ryder, but he signed last night with the Boston Bruins.
All in all, a lot of questions remain for this team. But look at it this way, at least one thing is clear.
The Rangers re-signed Steve Valiquette to be their backup goaltender next year.
It's a relief, I know.
Posted under 2008 Off-Season
This post was written by on July 2, 2008